Saturday, July 26
I wish i haf a superbrain
I wish i can fly
I wish i can fulfil my every wish <<
this is more than enough le!!
=P
I wish i can pass my English fer mua o level <<
i treat u guys anything, if u still rmb i said this..
=x
I wish > wOrld pEace <
I wish u gdlUck!!
Keke.. I guess i nothin better to do..
Leslie Mills - Good Life
11:36 PM
-i
died
and i came
back
- = - - = -
wOw.. Quite a lOng time since i last update this.. hmm nothin to say actually... tOday had my social studies test.. keke sO.. wIsh mysElf gdluck.. =)
Hey nOw.. Hey nOw.. Bla Bla Bla.. =P
-ListEn w|f ur eyEs.-
Billy Gilman - One voice
9:40 PM
-i
died
and i came
back
- = - - = -
Friday, July 18
Aku b'day is someday in the december..
So this is wat it says...
DECEMBER: Loyal and generous. Patriotic. Active in games and interactions. Impatient and hasty. Ambitious. Influential in organizations. Fun to be with. Loves to socialize. Loves praises. Loves attention. Loves to be loved. Honest and trustworthy. Not pretending. Short tempered. Changing personality. Not egoistic. Take high pride in oneself. Hates restrictions. Loves to joke. Good sense of humor. Logical.
Actually quite true rite?? heheh wat do u think?? >>those hu know mi one.. =)
And yeah tml i will be havin my Oral english.. hmmm the reading section is ok wif mi but the picture part .. >> can die man.. How?? my Eng sux like hell... =P kekek nvm. jus wish myself gdluck.. => u toO!! TakE cAre..
- nItEz -
Bread - Everything i own
8:14 PM
-i
died
and i came
back
- = - - = -
Friday, July 11
Shit man!! Actually theres nothin on tml but... ... ...need to go school at 9am... which i can slep until 12pm one.. heheh
Today had my chi o level oral..Sux like hell man.. i read well but the conversation went totally Wrong... My brain reallie blank out.. Don know wat to say, stuck at one point... agrrrh... after the oral, i wished to haf some thing to shake my head out.. but no excitin thing which make mi so (eg. rollercoaster)...
Anyway aku bought two VCD and one special bag ... kekek...
Tired to write le.. (watchin star search now) << jus like to watch the junior singin part.. hehe
Aerosmith - I Don't Want To Miss A Thing
9:41 PM
-i
died
and i came
back
- = - - = -
Wednesday, July 9
Hiyoz!! There is one songz which is veri ago in the album "Sentimental Hits" << last song in disc two named :: "Anak (Child)"
By Freddie Aguilar.. haf a beautiful lyrics.. although the song is in other language (i think malay) but the lyric is being translate into eng... Anyway its a Eng CD but there is a malay song in there.. So the song goes like this :: --
On the day that you were born
Your parents were the happiest
And their hands
Were you guiding light
And ur mother and father
Excited to take care of you
They watch over you
Even in your sleep
In the middle of the nite your mother gets up
To change you and prepare your milk
And in the morning your dad sits you on his lap
And jus can't get enough of u
And now that you're an adult
You want your freedom
Though they disagree wif you
There's nothing they can do
You've changed so much since then
You never seem to listen
Ignoring their advice
And reminders
It never even crossed ur mind, everything they say and do
They do 'cause they care for u
And all you cared abt is yourself
There's nothing else you see but being free
And as more years went by
You've completely lost track of ur path
You found yourself craving
For the pills that calm you down
And now you run to ur mother
Weeping and brokenhearted
They ask you
"My child, Why? What have you become?"
You felt their pain, didnt know what to say
A tear jus rolled down ur cheek
Regretting all you've done
You've realized ur mistakes...
-End-
So after reading this lyric, wat do u feel?? heheh maybe nothin or u will think of ur parent or ur fren hu without their parent and so on.. You r real fortunate... Hehe.. i when become a Counsellor??.. *Ehem* keke... Anyway this Disc kept wif mi quite long le.. i took it out yesterday since i m free so take out the lyric bk and read too.. then let mi found this.. hope u enjoy it.. and Ciaoz..
-smInt-
5:43 PM
-i
died
and i came
back
- = - - = -
Sunday, July 6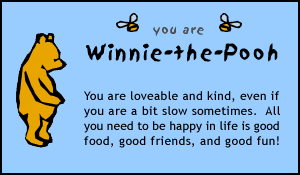 Take the 100 Acre Personality Quiz!
half-asleep... don know wat to do now.. So had all this quiz.. hehe More cOlours in here!! =P
Finish ur hmwk if u don haf anything to do.. hehe don be like mi..

discover what candy you are @ stvlive.com
Hehe.. nv heard of cAndy necklacE.. =P
LolZ.. dO | suit green??
10:55 PM
-i
died
and i came
back
- = - - = -
Hihi.. Today i had my tution in D.G.. Did some worksht and we read one passage which is abt >>Genuine Love<<
Its meaningful and good for ur English.. keke.. cOs tt tution which i attended is fer my English... =) hehe..
| will pOst it heRe fer u guyz to c how the author write abt this two words >>Genuine Love<<
Its a real long passage but i will still share it wif u =)
So check it Out nExt weEk.. (cOs nOw the papEr |s wIf my teaCher) keke..
Smash Mouth - I Wanna Be Like You
9:44 PM
-i
died
and i came
back
- = - - = -
Saturday, July 5
yO-hO... tOday is Ivy's b'day.. Hehe.. a group of monkeys (Ivy,My,ber,Lynn,eve,jac,Lc,PP,Bf,HL,me and so on and on) went out to town and turn it upside down.. keke
ToOk sOme p|cs.. Ate alot.. PlAy alOt.. Walk alOt.. Crap alOt..
Although in between this period of time, there is some unhappiness which i oso not tt sure.. but still.. we enjoyed =)
And.. =P nOw | m toO tired to type anymore lE.. sayonara.. -n|tEz-
R.Kelly
Title:
I believe I can fly
=P
11:55 PM
-i
died
and i came
back
- = - - = -
Wednesday, July 2
Listenin to: -- bla bla bla --
=)
I'm tyring to remember
Why I was afraid
To be myself and let the
Covers fall away
I guess I never had someone like you
To help me, to help me fit
In my skin
Avril Lavigne
Title:
Naked
Sometimes I get so weird
I even freak myself out
I laugh myself to sleep
It's my lullaby
Sometimes I drive so fast
Just to feel the danger
I wanna scream
It makes me feel alive
Is it enough to love?
Is it enough to breath?
Somebody rip my heart out
And leave me here to bleed
Is it enough to die?
Somebody save my life
I'd rather be anything but ordinary please
To walk within the lines
Would make my life so boring
I want to know that I
Have been to the extreme
So knock me off my feet
Come on now give it to me
Anything to make me feel alive
Avril Lavigne
Title:
Anything But Ordinary
9:10 PM
-i
died
and i came
back
- = - - = -